WELCOME TO THE WORLD MARKET LEADER.
We produce reliable drives and controls in premium quality for roller shutters and awnings, along with mechanical roller shutter components. We are the world market leader in strap coilers: an achievement of which we are very proud. When developing our products, we always emphasise ease of use and assembly, as well as energy efficiency and greater convenience. Our mission is to make life easier for our customers.

The business has remained family owned ever since its foundation in 1866. We have developed and manufactured our products throughout our history in the Südwestfalen region of western Germany, the country's third-largest industrial heartland. Since 1960, we have been producing our strap coilers in Bad Arolsen in central Germany. In 1995, we expanded internationally with our Polish subsidiary SELVE Polska in Krakow. SELVE products are sold all over the world, wherever people need shade and sun protection.
SELVE insights – the latest news from the people who make it happen
Have your questions answered by our expert team: SELVE management and sales staff will be on hand to update you on SELVE's key areas in 2021:
How was 2020 for SELVE, given the unprecedented circumstances?
What is SELVE's path now?
What's so special about SELVE?
A UNIQUE VARIETY OF PRODUCTS.
At SELVE, we have the most comprehensive product range on the market – currently almost 6,000 items for roller shutters and awnings. Our portfolio covers everything from strap coilers and end caps to octagonal shafts, bidirectional radio drives and our smart home solutions.

Throughout our history, we have constantly broken new ground. In 2012, we launched the SEZ, the first drive system specially designed for zip screens. It has been copied many times since. With the SP Rescue (2018) and MAN Rescue (2021), SELVE developed revolutionary methods of opening roller shutters for the second escape and emergency route.

The commeo radio system was introduced in 2016 and set new standards in terms of simplicity and flexibility for radio transmitters. There is a good reason why we call it 'the simplest radio system in the world'. In 2019, we responded to the growing demand for home control systems with SELVE Home, our very own smart home system that relieves users of countless menial tasks every day.
SUCCESS DRIVEN BY CONSTANT DEVELOPMENT.
As a technical pioneer, we lead the roller shutter and awnings industry with our clever, practical products and systems. We employ around 225 people, dedicated to doing their best for customers every day. With two development divisions and an expert product management team, we work hard to continuously develop our product range and offer our customers new solutions for many areas of life.

We apply the same principles to the business as a whole, constantly looking to improve our internal processes. In fact, we even have a dedicated continuous improvement officer whose job it is to shine a light on our processes, in order to find room for improvement throughout the company. In 2011, we reorganised our production along the lean principles that have gone on to become the cornerstone of all our manufacturing operations. Lean enables efficient production in high quantities, delivering German quality at an affordable price. Thanks to faster reaction times and greater flexibility, we can deliver customised products even at short notice.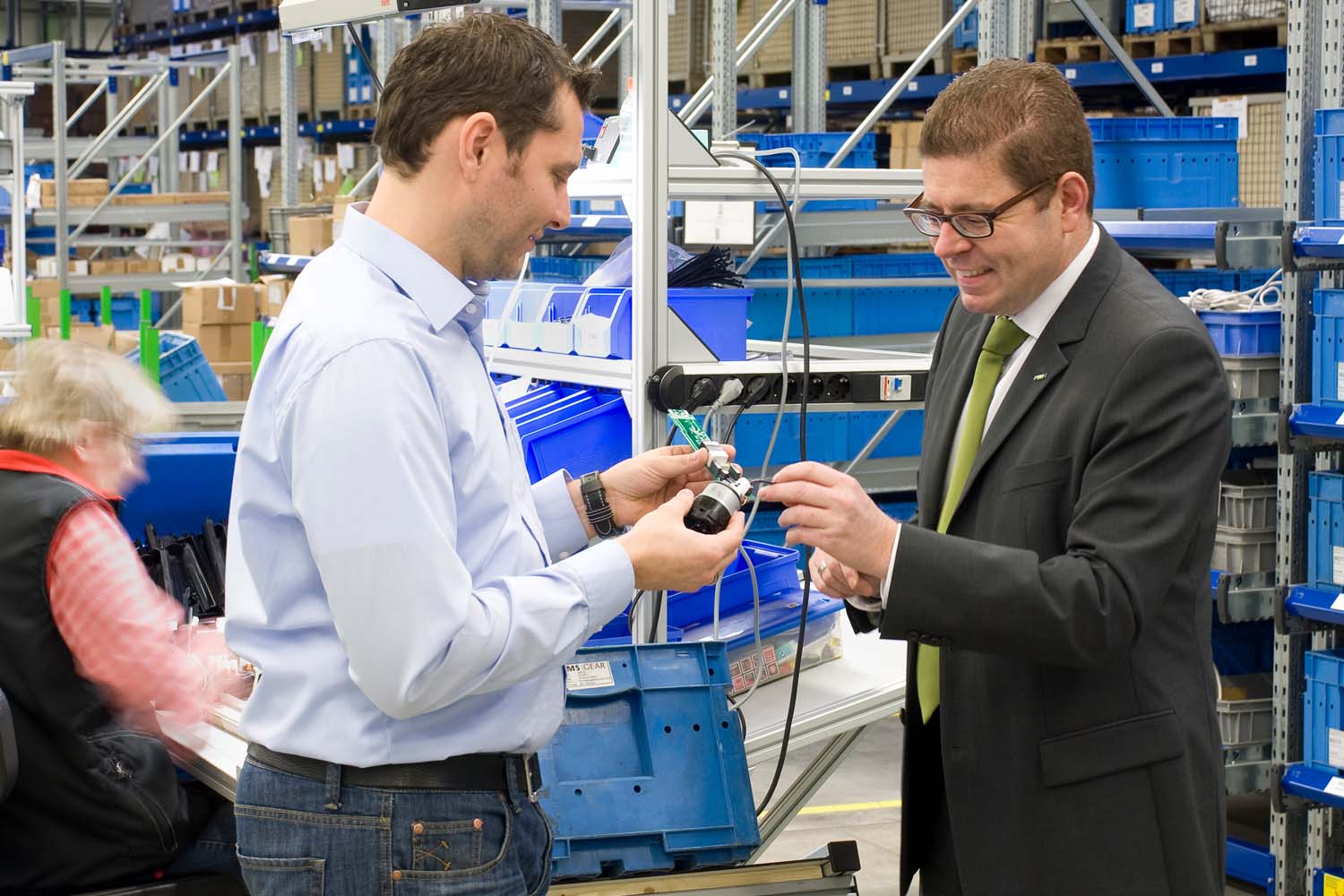 10 FACTS ABOUT SELVE
SELVE is a modern yet long-standing family business based in the Sauerland region of western Germany. It is among the top providers of mechanical components, drives and controllers for roller shutters and awnings. We have an outstanding reputation in the industry, as well as being able to develop customised products as a reliable partner.
Founded in 1866 in Lüdenscheid and still there today
A family-owned business that lives for innovation
Over a century of experience in roller shutter components
The world market leader in roller shutter strap coilers
In-house production of motors (since 1994) and controllers (since 2003) for roller shutters and awnings
Nearly 6,000 products for roller shutters and awnings
Developed and manufactured in Germany
Around 225 highly trained employees across two sites
Top-class service, expert consulting and short delivery times
Over 3,000 satisfied customers around the world
PRODUCTION
We manufacture almost all of our products at our headquarters in Lüdenscheid in western Germany. From developing and producing metal and plastic injection-moulded parts and octagonal shafts to assembling motors and our SecuFix rigid shaft connector. Our strap coilers are manufactured at our second plant in Bad Arolsen using highly automated production systems. Since 2011, a 15-strong team of employees with disabilities has been working on assembling various components at our plant in Lüdenscheid.
We rely on innovative production processes.

In 2011, we completely reorganised our motor production according to lean principles.

Alongside self-adjusting production, this allowed us to massively increase production quantities while also improving quality.
Every drive can be assembled in a one-piece-flow process from A to Z. The shaft, gearbox, motor pack and mechanical or electronic shut-off are all assembled in less than a minute to form a finished drive unit.

At the end of production, we subject each and every drive to a full inspection to carefully ensure that it functions safely and efficiently.
SELVE is the world's leading producer of strap coilers for roller shutters. Over 20,000 of these leave our factory in central Germany every day.

In recent years, after acquiring a number of automated production systems for mini coilers and coilers for new systems, we invested in another automatic system for producing mini spring cases at the end of 2017.
Almost 90 per cent of our strap coilers for roller shutters are now manufactured on connected and automated production systems that ensure high, reproducible quality.

This level of automation gives us a competitive advantage for the coming years.
We manufacture a wide range of plastic products on over 25 cutting-edge injection moulding machines with central granulate feed. Special handling systems and robots enable effective production in large volumes.

Typical products made in this way include end caps, belt discs and strap coiler housings for roller shutters. The latest generation of machines can even be used to produce high-precision parts like bearing shields and gearwheels for our drives. Our SecuBlock burglar-proof fixations and SecuFix rigid shaft connectors are made from fibreglass-reinforced, high-performance plastic.
Producing at such a high level of quality like this is only possible thanks to regular testing with specialist measurement equipment connected to the central CAQ system.

We even have our own tool shop, allowing us to react quickly to create, change or repair the tools we need.
Over 4 million metres of steel shaft leave our SELVE plant in Lüdenscheid every year.

Every minute, our modern roll formers turn 40 metres of galvanised strip steel into 40 metres of premium SELVE octagonal shafts, free of burrs and chips.
The shafts are available in 40, 50, 60 or 70 mm diameters in a standard length of 6 m. We continuously stock shafts in other fixed lengths of 0.50 m to 3.00 m and can deliver these at short notice. Telescopic shafts round off the SELVE portfolio. All SELVE products are produced with the famous 'Made in Germany' quality.